Our Software Interprise Software For Vendors
Unlike traditional enterprise systems, Interprise Software puts control of products and price lists in the hands of the vendor, where it belongs. Large vendors can set up their enterprise system to send updated product and price lists on a regular basis through Electronic Data Interchange (EDI). Some vendors prefer to upload their products and prices from CSV files they generate using Microsoft Excel. Still others use our intuitive web interface for entering products and pricing on an individual basis. With many options available for maintaining data, some vendors have come to rely on Interprise Software for their primary product and price lists.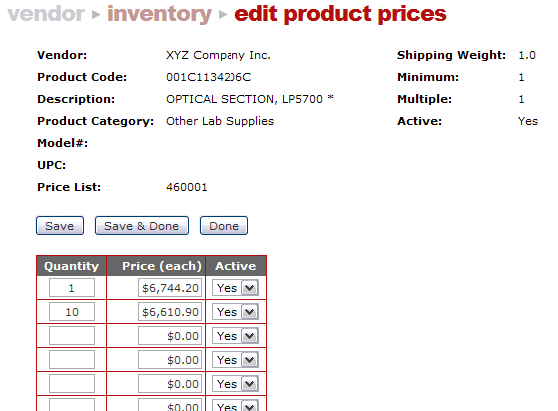 Vendors also have the ability to maintain multiple sets of payment terms and can assign different price lists and terms to different member accounts. Vendors can set up an unlimited number of users and groups, and assign permission for accessing things like orders, invoices and payments.
Although orders are typically placed by members, vendor sales reps can also enter orders on behalf of members. Orders are sent electronically to the vendor by email or EDI and vendors can designate additional email recipients for orders, invoices, etc. It is a tremendous advantage for vendors to receive orders electronically in a single format from all members.
Vendors can also choose to send invoices electronically by EDI, or enter them online through the web interface. When implemented with the central billing features, vendors have the added benefit of invoicing a single head office customer, rather than hundreds of individual members. The system has been designed to give vendors the flexibility to use the system in a way that works best for them.
Some vendors have come to rely on Interprise Software for their primary product and price lists